NINJA Parcours
With the popularity of various television shows, the Ninja Parcours has become more and more popular. There are numerous competitions in which the participants bravely fight their way through various obstacles. In order for you to experience and offer this fun exercise, we provide different Ninja Parcours variations. Depending on the individual ability we offer this attraction with different levels of difficulty. Besides facilities for professional athletes, we offer obstacle courses for hobby athletes up to Ninja Parcours for children from the age of 5 years. The construction of each facility is flexible. However, all our facilities train skill, endurance, speed, and coordination. We offer a wide range of elements such as net jump, multi rings, salmon ladder, pole jump, net bags, wrapped wall, and many more. We are happy to assist you on the selection of your equipment and we will put together the right offer.
NINJA parcours VARIATIONS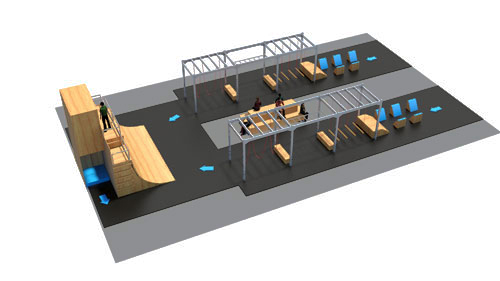 Ninja Parcours Steel
The steel modules combine running, jumping, swinging, climbing, shimmying, and balancing. This way the course offers training and fun at the same time. Our Ninja Parcours, for example, extends existing indoor fitness facilities with a wide range of movement. It can also be used as a single attraction. The course is just as suitable for spectacular events as for competitions. The obstacles are easily exchangeable and therefore new challenges can be created regularly. Our Ninja Parcours facilities are designed according to DIN EN 16630.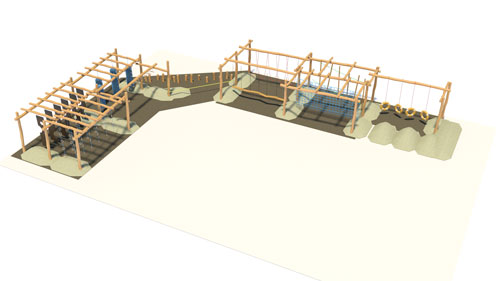 Ninja Parcours Robinia
The course made of robinia consists of obstacles at different levels of difficulty. The structure is similar to the steel module system for indoor use. It is made of robinia trunks which makes it suitable for outdoor use. The solid and natural wood trunks make it long-lasting and fit well into the landscape.