bouldering walls
Our Bouldering Walls are available in different variations. They can be built inside or outside on existing walls or as a freestanding construction using steel beams. The substructure is mostly made of spruce wood. For special requirements we also use a steel constructions. For the cover, sanded multiplex panels are used. These wooden panels have a prefabricated hole grid, which allows easy and quick modification of the climbing hold. This makes it possible to screw in new exciting climbing routes at any time.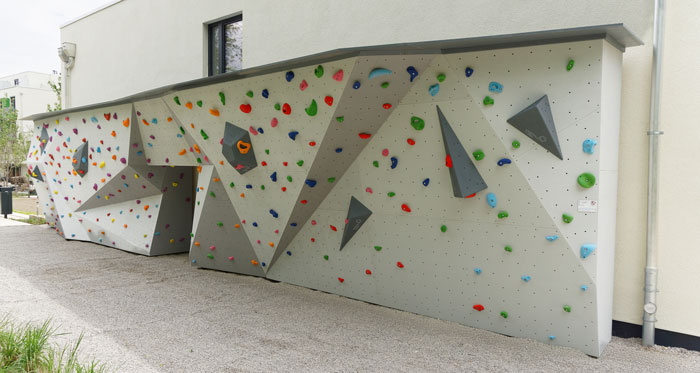 Bouldering means to climb without a rope and a harness at a safe jump height (maximum 3.5 – 4.5 m). Thick crashpads or boulder mats cushion the landing on the ground. In outdoor areas mostly gravel is also used for fall protection. The degrees of difficulty of the climbing routes are marked by different colored climbing holds. Although the routes are usually very short, they have at least one key spot (crux). Due to the flexible substructure made of wood, various bouldering walls can be built, for example with overhang or an individual inclination. We build our Bouldering Walls according to the European Standard for artificial climbing facilities (EN 12572). We pay close attention to the highest quality and safety standards.
Furthermore, there are no limits to the choice of colors and materials. It is also possible to thematize the walls. For example, graffiti can be used to realize your desired motif. We are happy to assist you in choosing colors, motifs, and materials.
Boulder pavilion
In addition to the classic Bouldering Walls we offer a boulder pavilion. This offers the opportunity to climb outside, independent of weather. The pavilions are a completely roofed bouldering facility, which consist of a wooden substructure. We can make them accessible to the public as well as lockable. Because of the continuous hole grid there are no limits to the individual design of the climbing routes.