BUILD YOUR OWN HIGH ROPES COURSE
With over 11 years of experience and expertise in manufacturing High Ropes Courses we have made many customers' dreams come true. Our High Ropes Course system can be implemented as a stand-alone attraction or integrated into numerous business operation concepts. Thanks to the innovative modular system, the customer benefits from the fast ROI with minimum maintenance work required. We work closely with our customer/you to develop a turnkey business model, cost-efficient and safety adventure course for you, or expand your existing operation capabilities.
Beginning with the initial business consultation, planning, course design, concept, approval procedures, profitability calculation, manufacturing, assembly, training as well as after-sales services – we will be there for you and guiding you step-by-step.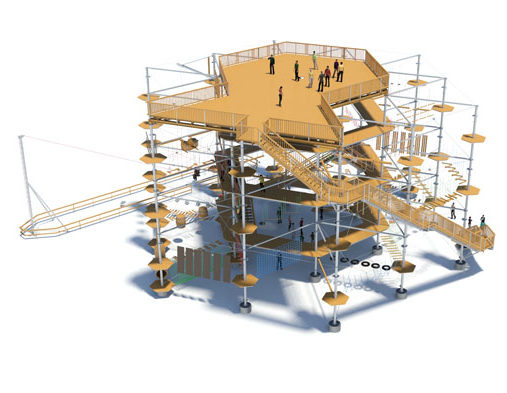 STEPS TO YOUR OWN HIGH ROPES COURSE
1
Framework Conditions and Site Analysis
As a first step, the framework analysis for a High Ropes Course installation should be conducted on site. This also includes the assessment of the regional potential in order to be able to determine the size of the challenge course. Based on many years of experience we are pleased to support and advise you on the feasibility and the potential to success of your own adventure park.
2
Planning and Production
We take care of the planning, conception, design, manufacturing and construction of your individual High Ropes Course according to your preferences. Your course design be individually customized with numerous possibilities, different climbing elements, extensions, colors and themes, making it truly unique. An adventure-based educational concept can also be planned and built in line with your individual ideas and requirements for a High Ropes Course.
Your individual adventure course can be built indoors or outdoors, and is suitable for all climate zones. According to your ideas and input the Ropes Course can be manufactured with weather-resistant coating for the installation in rough conditions like on top of a mountain or next to the sea. In the design and installation process we pay particular attention to the highest safety standards with implementation of a continuous safety system and state of the art safety equipment & technology.
In the next step you can lean back confidently. All parts and materials of the High Ropes Course will be produced and manufactured in our own workshops to ensure that quality and precision meet the highest standards. The finished parts and materials of the Ropes Course will then be shipped to the final location.
3
Logistic and Installation
You also don't have to worry about anything during transport and assembly of the finished individual parts. All parts and materials will be loaded and delivered accordingly at your designated destination.
The High Ropes Course will be installed by our assembly team at the denoted site. The finished installation will be inspected by TÜV before the start of the operation. Our whole manufacturing and work process follows to the applicable safety standards of the European safety system.
4
Training and Staff
We will conduct the training section with your nominated guides at the site. The guides for the High Ropes Course operation will be trained according the standard EN 15567 to ensure a safe and efficient operation of your site.
5
Opening and Start of the Operation
Now you are ready to open. Set the opening date and off you go. If you wish, we can also support you with ideas for the operation and marketing of your High Ropes Course. We are also happy to answer any questions about experience, "best practices" and individual operating concepts within the High Ropes Course operation. Take a look at our success stories to get first insights.
6
After Sales Support
Of course, follow-up support should not be missed, whether it is the expansion of the High Ropes Course, the replacement of climbing stations, additional safety equipment or inspection and maintenance. The first of the annual inspections is free of charge for you. Subsequently, we also offer maintenance contracts for longer-term support and inspection. In addition, additional individual training for new personnel, refresher courses or special training courses can be taken during ongoing operation.