climbing walls
Our Climbing Walls are available in different variations. They can be built both inside and outside, on existing walls, or as a free-standing construction using steel beams. The substructure of the climbing walls is usually made of spruce wood, but for special requirements a steel construction is used. For the cover, sanded multiplex panels are used. These wooden panels have a prefabricated hole grid, which allows for easy and quick modification of the climbing holds. Thus, new and exciting climbing routes can be screwed in at any time. We build our climbing and bouldering walls according to the European Standard for artificial climbing facilities (EN 12572). We pay close attention to the highest quality and safety standards.
In contrast to Bouldering Walls there are no limits to the height, because Climbing Walls are secured with a safety device. Various climbing routes can be screwed through the hole grid of the wooden boards. The assembly and construction of climbing walls is possible both indoors, e.g., in climbing halls, and outdoors, on existing wooden or concrete walls.
There are no limits to the choice of color and material as well as the choice of theme. For example, graffiti can be used to realize your desired motif. We are happy to assist you in choosing colors, motifs, and materials.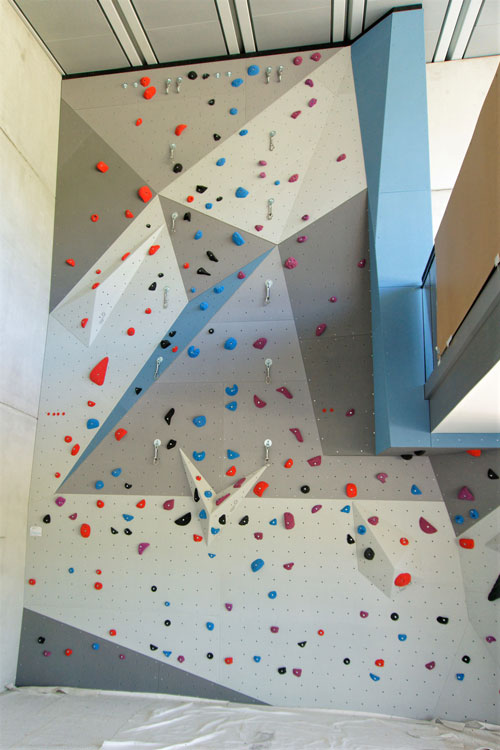 climbing towers
In addition to the construction of Climbing Walls, we also build freestanding, individually designed climbing towers. These are visualized and designed by our team, manufactured in our own workshops and assembled by our team. The towers consist of a stable substructure made of wood, which in some cases is supplemented by steel. Form and height can be planned and designed according to your preferences.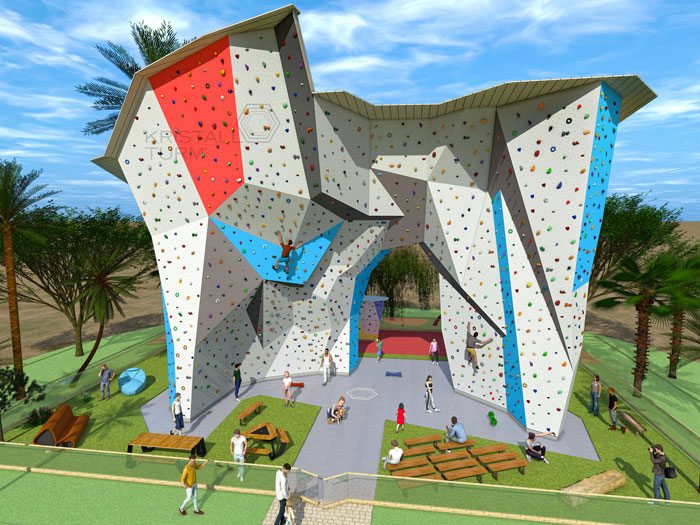 safety systems
When choosing the right safety system, three different types are available.
Abseil device TOPPAS
The TOPPAS abseil device from neuhaus transtech used by us has a self-regulating brake system. It lets the climber down gently and weight-independently to the ground. Therefore no climbing partner is necessary.
Toprope
For Toprope climbing, the safety rope is already fixed at the end of the route. The climber is secured from the ground by his partner. This requires detailed instructions.
Lead climbing
In the case of lead climbing, the climber has to hook the rope into intermediate belay devices on his own while being secured from the ground by a partner. Climbing experience is required here.