EFFICIENCY
Our Efficiency models are the space-saving alternative to our Signature High Ropes Courses. They provide almost the same visitor capacity such as a KT-18, but only need about two thirds of the footprint. Both the KT-13 and the KT-14 can be extended up to 4 levels. They can too represent a landmark for an entire region. Its footprint area is fully utilized for climbing elements which is why the central walkway platform can be eliminated. Due to their shape the models are particularly suitable for narrow long areas. The event platform can be integrated on top of the structure, as a lookout point for visitors or a rest station for climbers.
KT-13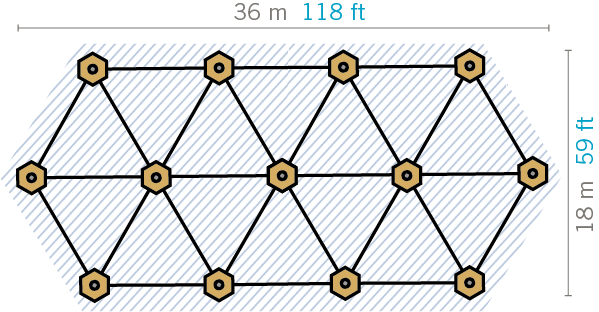 Levels
2
3
4

Space
580 m2


6243 sq ft

580 m2


6243 sq ft

580 m2


6243 sq ft


Capacity
70
100
135

Elements
52
78
104

Staff
3
3 to 4
4
KT-14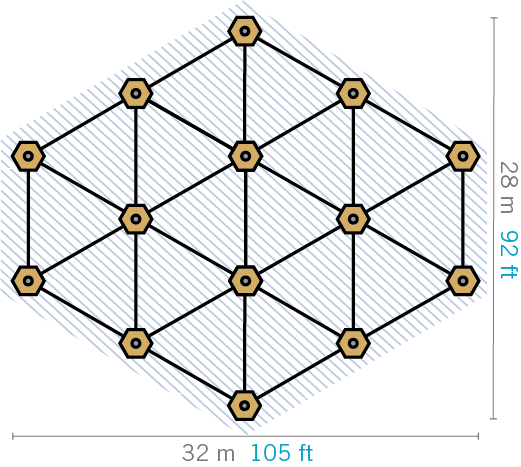 Levels
2
3
4

Space
640 m2


6889 sq ft

640 m2


6889 sq ft

640 m2


6889 sq ft


Capacity
80
120
150

Elements
58
87
116

Staff
3
4
4 to 5
CUSTOMIZATION & ADD-ON ELEMENTS
Also, the Efficiency model can be further enhanced with add-on elements. In most High Ropes Courses, a kids' course is built below the first level so that parents can easily accompany their children. But also a tube slide or an abseiling station guarantee additional fun and action for your visitors. Feel free to contact us for more information or individual consultation.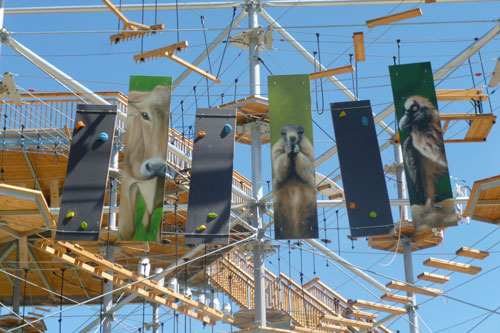 BUILD YOUR OWN HIGH ROPES COURSE
Do you want to build your own High Ropes Course which can generate an interesting ROI and create value in your business ventures? Find out more about how KristallTurm® can help you to realize your dream.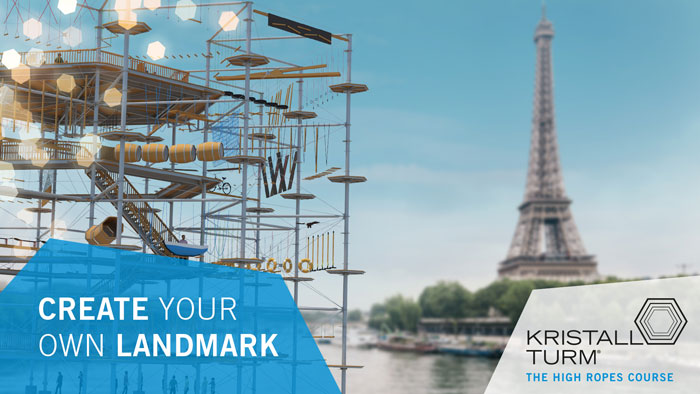 project example
Shanghai port, China
This 13-pole High Ropes Course with 78 climbing elements on 3 levels is located directly in the port of Shanghai. It was extended by a abseiling station, giant swings, a kids' course with 16 climbing elements and a tube slide. A special roof construction as well as climbing panels on the steel poles complete the facility. In order to withstand the weather conditions directly on the water, the steel parts are coated with a special corrosion protection.
Key Features
| | |
| --- | --- |
| Location | Shanghai Port |
| Opening | July 2018 |
| Size | 13-pole High Ropes Course (KT-13), 3 levels, 94 climbing elements |
| Add-on elements | Ground platform, roof, tube slide, climbing panel, kids' course, giant swing, salt water package |
| Operation | Year round |