SIGNATURE
The KristallTurm® 18-pole is the top model among our High Ropes Course structures. Our biggest configuration can accommodate up to 160 climbers at the same time. Due to the space-saving concept, this model requires only a footprint area of approx. 900 sqm. It can be extended up to 4 levels and thus reaches a maximum height of 22 meters. Unlike the smaller models, a walkway platform is built in the middle of each level in this structure. As a consequence, it offers plenty of space at the large outer and inner surfaces for add-on elements such as a giant swing or a tube slide.
KT-18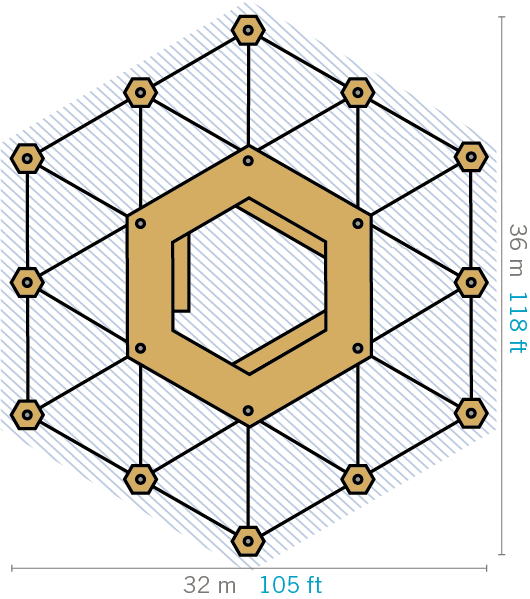 Levels
2
3
4

Space
900 m2
96

88

sq ft
900 m2
96

88

sq ft
900 m2
96

88

sq ft

Capacity
80
120
160

Elements
60
90
120

Staff
3
4
5
CUSTOMIZATION & ADD-ON ELEMENTS
The KT-18 can be expanded with all sorts of add-on elements for fun & action. Because of its huge size, it is also feasible to install a walkway platform at any level. A viewing balcony platform on top of the structure can also be integrated if necessary. But also a tube slide or an abseiling station from 22 m guarantee additional fun and action for your visitors. Feel free to contact us for more information or individual consultation.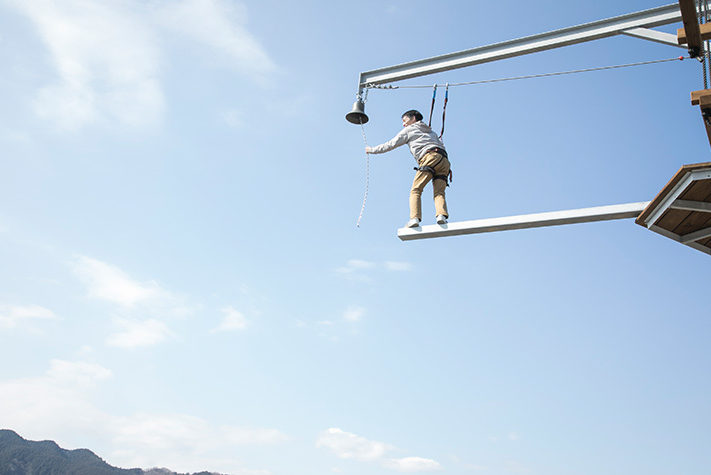 BUILD YOUR OWN HIGH ROPES COURSE
Do you want to build your own High Ropes Course which can generate an interesting ROI and create value in your business ventures? Find out more about how KristallTurm® can help you to realize your dream.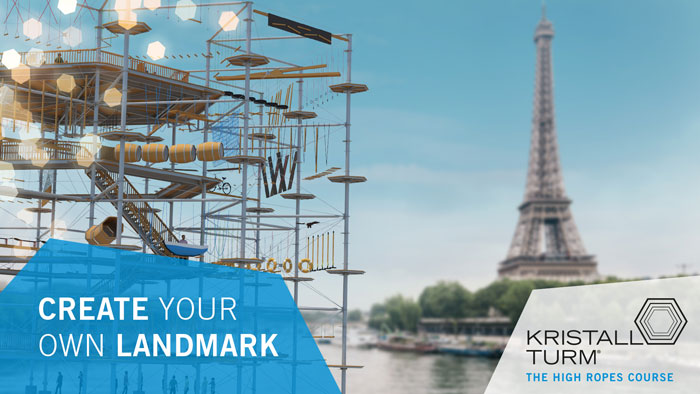 project example
CLIIMBER, FLUMSERBERG, switzerland
The KristallTurm® High Ropes Course Cliimber is located at an elevation of 1,600 m above sea level on the Flumserberg. It is THE summer attraction for fun and thrills. This High Rope Course contains 90 climbing elements in 3 levels, combined with an event platform, a zip line, a climbing wall, a giant swing and a kids' course. The kids' course is installed below the first level with additional 19 climbing elements and offers young kids their first steps into the climbing world.
Key Features
| | |
| --- | --- |
| Location | Flumserberg ski resort |
| Opening | May 2012 |
| Size | 18-pole High Ropes Course (KT-18), 3 levels, 109 climbing stations |
| Add-on elements | Event platform, zip line (6 lines), climbing wall, abseiling station, trust jump, kids' course |
| Operation | June till October |