Attractions for events
KristallTurm® offers various mobile attractions for the expansion of your event. Each of our attractions offers fun and diversion for children and adults. We will be happy to create an individual attraction for your event.
Swing Boat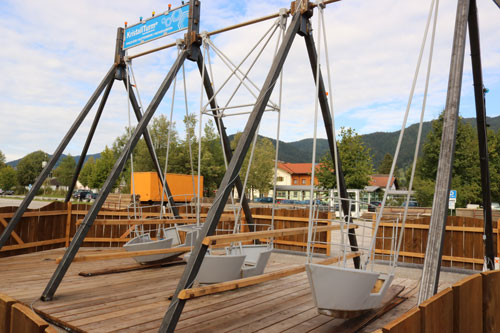 "A well-known attraction that has already brought a lot of fun to many fair visitors."
The Swing Boat is the highlight of every event. It is very popular with children and adults. The passengers are secured with a belt and can also hang in foot loops. The three swing boats can be used at the same time. One of the boats can even rollover, which is great fun for the spectators.
Climbing Tree
Here you can see the product in 3D from all sides.
Our specialty in the area of attractions for events is the Climbing Tree.
The Climbing Tree is very popular with small children and can therefore also be used as a stand-alone attraction. It is also great for competitions such as "Who reaches the top the fastest." This highlight is easily supervised at any event.
The Climbing Tree is an approximately 10 m high, naturally grown tree trunk. On one side, the existing branches serve as handles and steps, while artificial climbing holds are attached on the other side. In addition, the climbers are secured by the TOPPAS automatic safety device. Furthermore, the Climbing Tree is mobile due to its simple construction. This means it can be set up and taken down quickly, but it can also be firmly anchored and operated as a stationary unit.