The next level adventure hub.
KT-Evolution.
The next generation KristallTurm® is not only a typical High Ropes Course.
Our KristallTurm® Evolution is the ultimate adventure on only 900 m2. Many different elements are combined to one big adventure hub, which offers space for over 400 visitors at the same time.
This makes the holistic attraction to a real multi-talent that maximizes fun per square metre and offers entertainement and action for the whole family.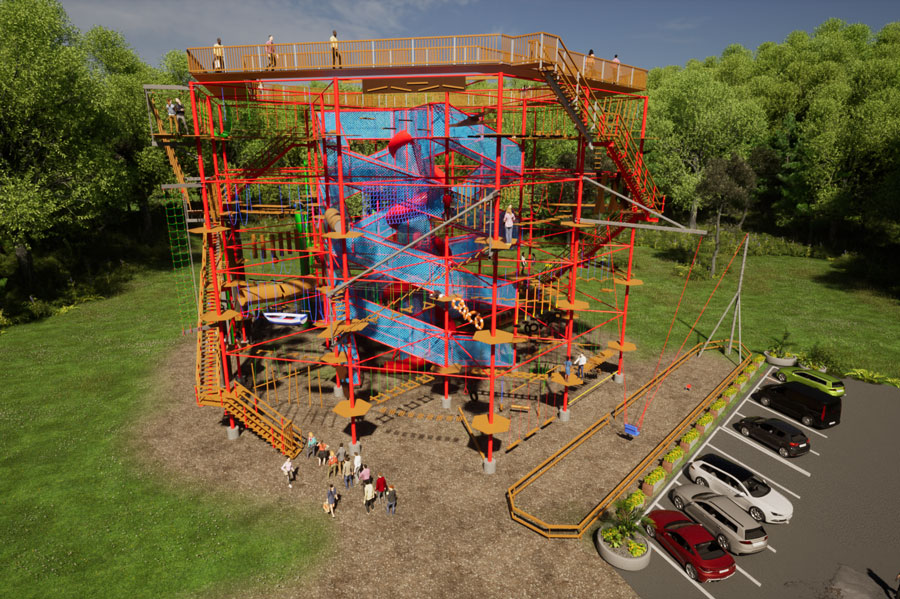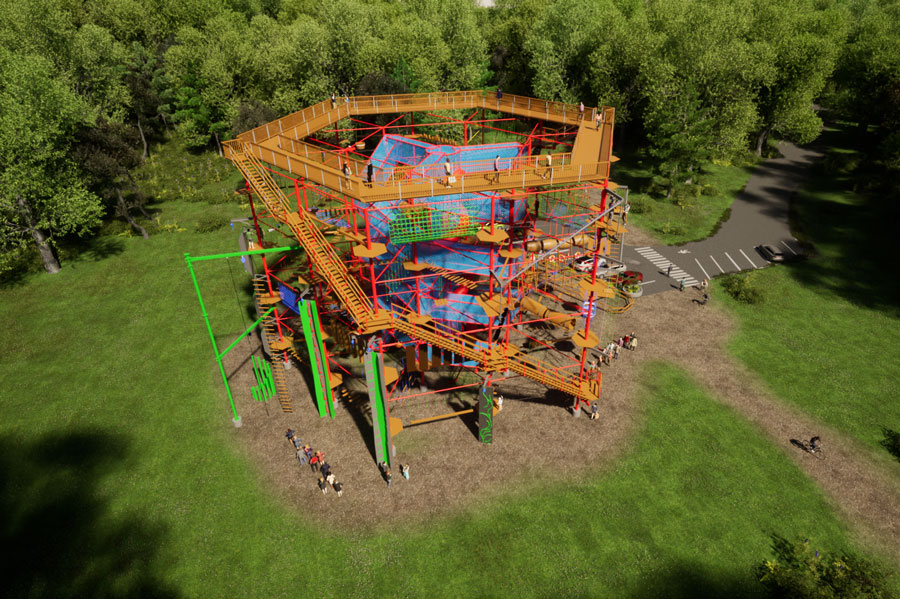 One adventure hub, many possibilites.

One of the big advantages of the KristallTurm® Evolution is the possiblity to use the different attractions individually. Only the High Ropes Course, the Action Climbing panels and the Kids Course need a self belay system. The other attractions like the Net Course, the Giant Swing, the Tube Slide and the Walkway on top can be used seperately.
Key features.
Ropes Course

Up to 4 levels with 120 climbing elements, diagonal and vertical elements and many add-ons like Walk the Plank and an Abseiling Station.
Walkway on top

Walkway crown around the whole structure on top. Can be reached by the stairs without self belay system.
Net Course

3 courses in the center of the structure winding up with 8 elements each. They are secured with a surrounding net and no self belay system is necessary. Back down either with the Tube Slide or the stairs.
Multiple Stairs

Two seperate staircases make it possible to enter the attractions by two sides and reach the platform. The stairs in the middle make the Tube Slide and the Net Course easily accessible.
Action Climbing

5 different Action Climbing panels, a Pole Walk and Rope Climbing make the adrenaline level rise higher.
Kids Course

19 climbing elements near the ground with continous belay system for kids from 3 to 8 (up to a body heigt of 1,40 m).
Tube Slide

In the center of the structure a Tube Slide starting up to 19 m brings you rapidly back down to the ground.
Giant Swing

The Giant Swing on the side of the structure complements the holistic adventure hub and can be operated as seperate attraction.
Interesed?
You are interested in our KT-Evolution, you want to have more information or an individual offer?