STARTER
The Starter models from KristallTurm® are an ideal solutions for locations with space constraints. This all-rounder model is perfect for upgrading an amusement park, a zoo or a hotel resort. The advantage of the starter models is the easy expansion at a later date. The models therefore represent an ideal entry into the market. But the Starter models are also a good choice for smaller towns and municipalities to offer their inhabitants a variety and a special kind of experience. Like the larger versions, an event platform can be integrated on top of the highest level and offers a spectacular location for events in addition to the climbing operation.
KT-7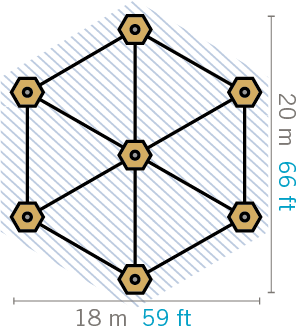 Levels
2
3

Space
300 m2


3229 sq ft

300 m2


3229 sq ft


Capacity
35
50

Elements
24
36

Staff
2
2 to 3
KT-10

Levels
2
3

Space
430 m2


4628 sq ft

430 m2


4628 sq ft


Capacity
55
75

Elements
38
57

Staff
2 to 3
3
KT-12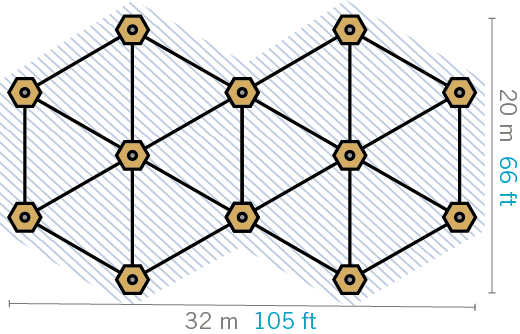 Levels
2
3

Space
570 m2


6135 sq ft

570 m2


6135 sq ft


Capacity
60
90

Elements
46
69

Staff
3
3 to 4
CUSTOMIZATION & ADD-ON ELEMENTS
Already from the Starter models on all add-on elements can be attached. In most high ropes courses, for example, a kids´ course is installed below the first level to expand the target group of visitors. But also a tube slide or an abseiling station guarantee additional fun and action for your visitors. Feel free to contact us for more information or individual consultation.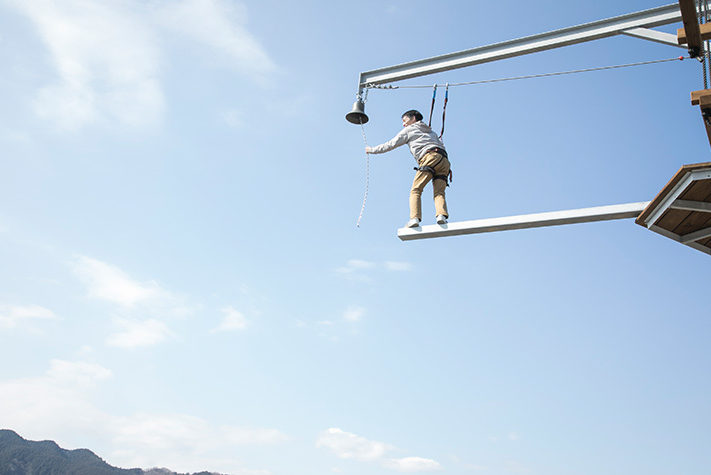 BUILD YOUR OWN HIGH ROPES COURSE
Do you want to build your own High Ropes Course which can generate an interesting ROI and create value in your business ventures? Find out more about how KristallTurm® can help you to realize your dream.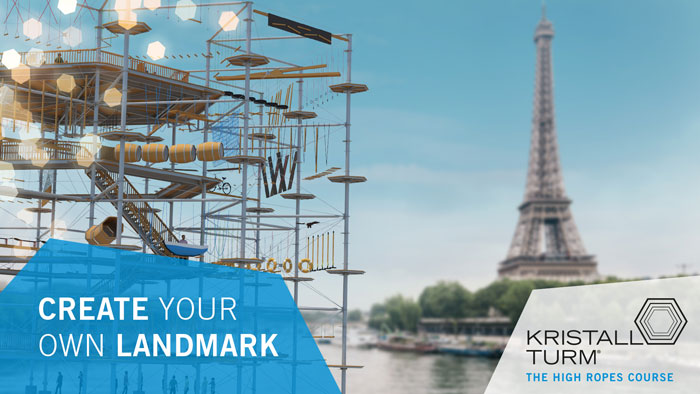 Project example
NAMsSKOGAN, TRONES, norway
Since 2015 one of our KT-7 is located in the mid of the Namsskogan wildlife park in Central Norway. The wild animals that live in the park have been thematically picked up in this climbing tower. Arctic foxes, bears, animal paws and much more decorate this High Ropes Course with 36 climbing stations on three levels and a height of 16 meters. In 2017, the tower, which offers climbing for 50 people at a time, was expanded to include a children's course with a mini zip line.
Key Features
| | |
| --- | --- |
| Location | Wildlife Park Namsskogan, Trones, Norway |
| Opening | July 2015 |
| Size | 7-pole High Ropes Course (KT-7), 3 levels, 45 climbing elements |
| Add-on elements | Ground platform, abseiling station, kids' course with mini zip line |
| Operation | June till August |