FITNESS Course

The KristallTurm® Fitness Course (also known as exercise or activity course) offers training equipment of all kinds for strength and coordination as well as mobility and endurance. It also provides varied circuit training. Individual elements can be combined as desired to achieve diverse training goals. Sports facilities, hotels, cities, and municipalities especially can use this option to develop an attractive range of sports offers and offer their guests an exciting leisure program.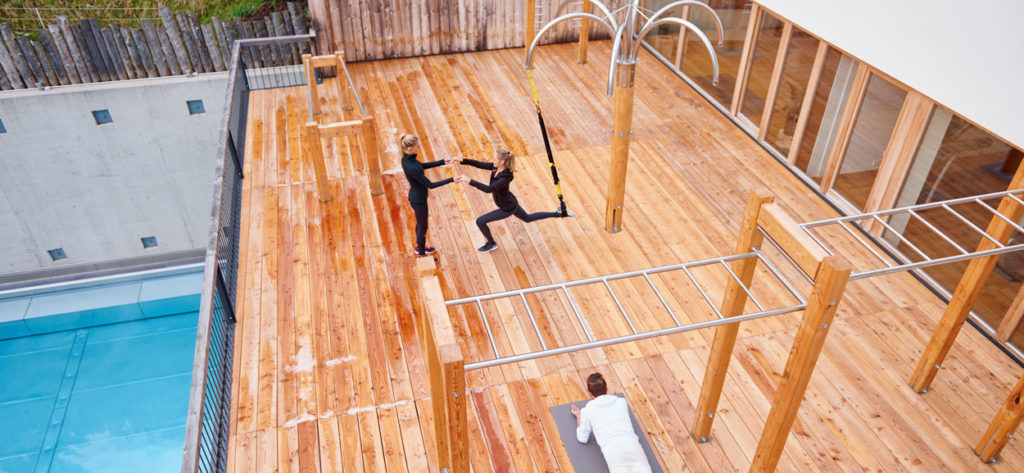 Possible Application
Fitness trainers and physiotherapists can use the training equipment in a variety of ways to meet a wide range of training needs. Whether with or without a trainer – the fitness equipment forms the contrast to conventional equipment. It is suitable for indoor and outdoor use. At the same time, the KristallTurm® Fitness Course is particularly suitable for public areas due to its solid construction. It is also weatherproof and highly durable.
Calisthenics or Street-Workout, a workout in which the own body weight is used as training resistance, has been gaining increasing popularity over the past 5 years. We take up the trend-setting training principles when planning and building our equipment.
A Fitness Course can also be combined with bouldering walls or a nearby playground to create an exercise program for a larger target group.
ELEMENTS AND APPLIANCES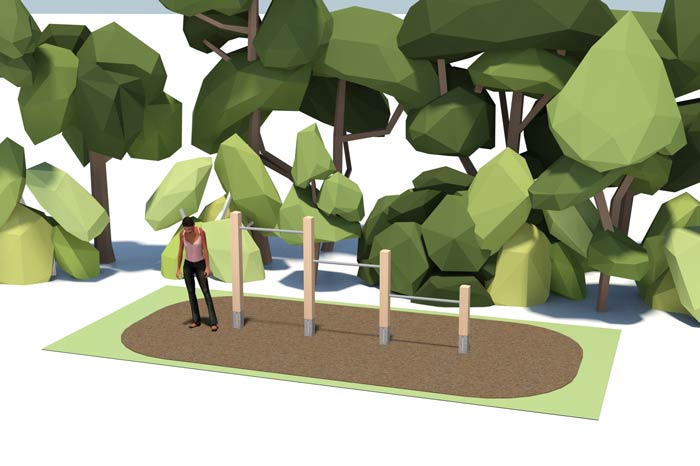 We build our fitness equipment from high-quality larch wood as the standard. The planed and otherwise natural woods are extremely sturdy and therefore have a very long life span. Robinia wood can be used in the outdoor area on request. If desired, we can also use spruce for the interior.
You can individually combine and design the various devices, such as a wall bars, a high bar, a balancing beam, and much more. The result is a unique Fitness Course built entirely according to your ideas and with a focus on different aspects such as health, social, or integrative benefits.
mobile trainig ladders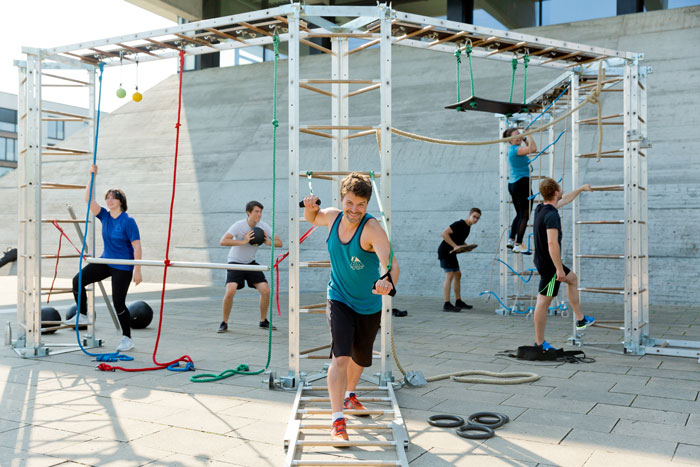 In addition to our fitness equipment, we offer mobile training ladders. These are rung ladders that can be easily connected to each other. This creates an ideal basic framework for sports exercises. We have developed the ladders in cooperation with health trainer Joachim Schlobben (Stamp Cross). The training ladders are versatile and can also be set up almost anywhere. In addition, they can be set up in different variations by using different connectors. Various attachments are available such as a pull-up bar, dip station and step boards. In addition, it is possible to hang elements such as rings or training bands. Due to their flexibility, the training ladders are ideal for companies, public institutions, sports clubs or fitness chains. Please contact us for more information.