Urban Health
Cities are and will remain magnets for creative minds. They are the essential drivers of innovation and progress, and they are the economic powerhouses of the world.

See Megatrend Urbanisierung: in: Zukunftsinstitut, 2020, 06.07.2021
Urbanisation and holistic health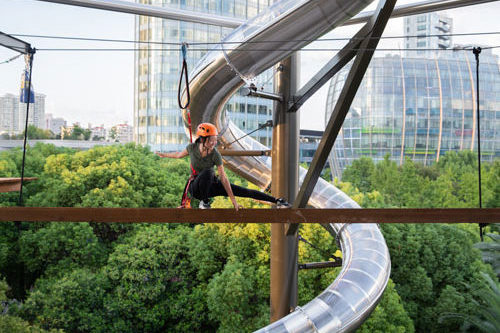 Two Megatrends, which are substantially influencing the future of cities: ongoing urbanization and growing health awareness.
This represents a new challenge for urban planning, as the balancing act between these two trends must be managed by creating exciting and healthy leisure facilities. Due to the lack of space, the realization of thrilling outdoor facilities is difficult, which means that the best possible use must be made of existing open spaces.
How a High Ropes Course contributes
to the health of your city
There are many reasons why a freestanding High Ropes Course uses the barely open spaces within cities effectively. The small footprint combined with a lot of fun and adventure, provides the perfect balance to the predominantly sedentary office work.
Want to learn more about the reasons why freestanding High Ropes Courses enrich the health of your city? Then download our whitepaper and get more information.